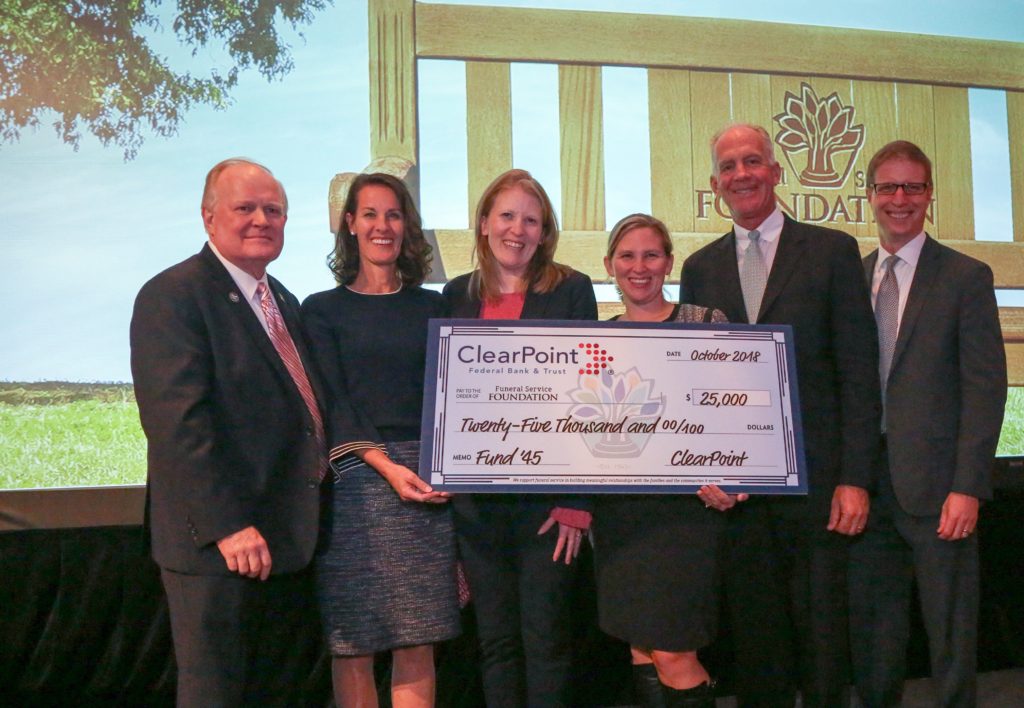 On Monday, October 15, 2018, our team was honored to participate in the Funeral Service Foundation Donor Reception in Salt Lake City, UT.  ClearPoint has pledged to donate $25,000 to the Funeral Service Foundation over the next five years.
Funeral Service Foundation is the charitable arm of the National Funeral Directors Association. Founded in 1945, the Foundation's mission is to support funeral service in building meaningful relationships with the families and communities it serves. Their vision "improved end-of-life experiences for families and their loved ones," aligns with ClearPoint.
"There are two key reasons we selected the Funeral Service Foundation," said David de Gorter, ClearPoint CEO and President. "The first is our shared passion and commitment to the advancement and success of funeral service professionals. The second reason is our desire to support an organization that is creating change and having an impact."
"The Foundation is grateful for ClearPoint's major gift, which increases our capacity to elevate education, outreach and initiatives that have a measurable impact on funeral service," said Funeral Service Foundation Executive Director, Danelle O'Neill. "ClearPoint is a longtime Foundation supporter, and its recent major gift underscores the company's commitment to the funeral service profession."
As a company solely focused on providing products and services to the death care industry, ClearPoint values organizations that are devoted to the future success of the profession and its leaders. Supporting an organization whose purpose is to educate families about the importance of memorialization and provides direction and support for our industry leaders makes this a very meaningful donation for ClearPoint.
It is an honor for ClearPoint to be associated with the Funeral Service Foundation. Community outreach efforts such as its Youth & Funerals initiative and distribution of Have the Talk of a Lifetime® Conversation Cards provide hope and comfort for our youth and direction for families.
To learn more about the Funeral Service Foundation and the opportunities, programs and scholarships they offer, visit www.funeralservicefoundation.org.