TIP TWENTY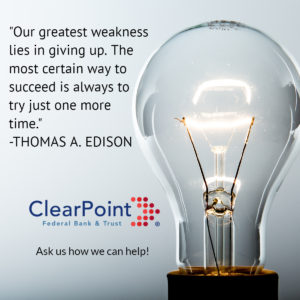 TIP NINETEEN – Trust Solutions Designed with Flexibility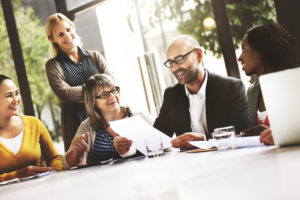 Let's face it, funerals are expensive. So why not show your community that you're here to help them not overpay for their funeral. How can you do this?
Offer a payment plan solution on a preneed funeral plan.  Payment plans are available interest free or at a very minimal interest rate when using the ClearPoint preneed trust solution.  Just one of the many benefits when using our products.  Our preneed trust solutions take the hassle away from you collecting payments by giving your families the option to send their payments directly to ClearPoint. The individual may select from several flexible payment options: coupon book or ACH. As a bonus, we will also communicate with you if the buyer falls behind in their payments so you can do a friendly check-in to see how they are doing. 
Finally, families will understand that if death occurs prior to fulfillment that they will be responsible for the difference. More importantly, they will appreciate the fact that you were honest enough to not let them unnecessarily overspend.
Author: Jodi Clock, ClearPoint Business Development Director
TIP EIGHTEEN – Partnering with Elder Care Professionals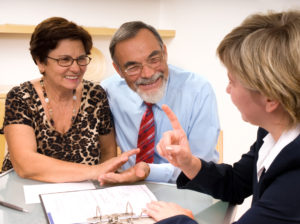 Did you know that attorneys who practice "Eldercare Law" rather than "Estate Planning" have become one of the best referral sources for death care pre-planning professionals? Why? Because their expertise is to help their clients make a plan to preserve one's assets and revenue stream for use while living. An "Estate Planning" attorney's focus makes a blueprint for the distribution of a person's assets after death, while incorporating tax advantages. Both practices are very necessary, but extremely different.
Today, baby boomers are not only pro-actively planning for themselves but advocating for their parents. They are seeking out experts who will help them navigate through the red tape, paperwork, and well-intended misinformation. These experts can and do influence which funeral home, cemetery, and even care facility a person will choose if there is no previous preference or past experience.
In order to distinguish yourself from your competition, you may want to consider getting to know which experts the people in your community would consider their "trusted advisor". Instead of reaching out to those experts and telling them "who you are, and what you do", try asking them: "how you can help them, help their clients?" The easier you can make it for them, the more referrals you will gain.
Author: Jodi Clock, ClearPoint Business Development Director
TIP SEVENTEEN – Coffee Shop Magic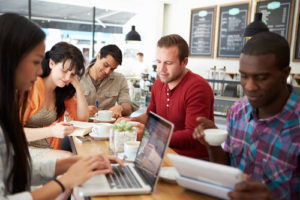 Do you ever wonder: what is the magic behind the success and popularity of coffee shops today?
If you have ever spent any time in a community coffee shop you will find the ages, interests, and backgrounds of the customers are especially diverse. A coffee shop can be a small sampling of what makes up the local community.
I frequently visit our local coffee shop for my favorite warm beverage. Ironically enough, it is not coffee, but a delicious vanilla steamer. Recently, I paused while waiting to be served to study the dynamic of the coffee shop, and to analyze why it is so busy and successful. Most importantly, I wanted an answer to the question, what is the magic behind the popularity of the coffee shop?
While gathering my thoughts and doing some additional research I found that the magic is not exclusive to coffee shops, but can be used by other businesses such as yours (funeral homes and cemeteries).
Lessons in Coffee Shop "Magic":
The coffee shop provides a place where a wide variety of people can gather and find a sense of community and belonging. Something we all crave more than ever.
Many of us are overwhelmed by deadlines and the busyness of our lives. The coffee shop is a place where it is ok to not be in a hurry. Slowing down and taking our time is embraced and expected.
The environment is comforting through the use of cozy furniture, beautiful artwork, and warm colors.
Soft inviting music is being played to help soothe the mind and soul.
Strangers openly greet each other and exchange smiles and kind words.
Opening a coffee shop in your establishment may not be in your budget; however, incorporating a few of the above magic touches should be worth considering.
We encourage you to take a break and stop by your local coffee shop to experience the magic first hand. While you're there, take the time to chat with a few of the other patrons – making connections in your community is by far your best strategy for building your preneed business.
Author: Beth Enneking, ClearPoint Marketing Manager
TIP SIXTEEN
Paperless Reports – Improve Productivity, Reduce Waste and Clutter, and Organize Your Business
You can help us save the environment and decrease the time it takes to receive your Trust Reports. Sign up for online access to your reports today! Your Trust Reports will have the same information as your paper ones. It only takes a few minutes to go paperless by calling your Trust Administrator at 800-763-0234 or email us at customer.service@clearpointfederal.com. Simply indicate you would like to have your Trust Reports electronically instead of having them sent to you by mail. It is that easy!
Let's work together to help our environment and reduce the clutter in your office!
TIP FIFTEEN
Continuing our special series of tips from Industry Experts, we present to you 10 tips from Joe Weigel for establishing an effective marketing program.
Establishing an Effective Marketing Program
Whether you're looking to draft a formal marketing document or merely sharpen your current efforts, marketing doesn't have to be hard or expensive. Sometimes the simplest ideas are the most effective.  Every funeral home/cemetery is different — the marketing tactics for a small town funeral home/cemetery are entirely different from those of a firm located in a large city. However, the process of building a program, sticking to it and applying the time and resources it needs is the common secret to success in marketing.
Here are a few tips to help you along:
Understand your customers
Getting to know your families is the most important stage of marketing process. The more accurate your information and knowledge, the more effective you will be. Talk to your families and ask them what you can do better to serve their needs. This information should steer your major business decisions and allow you to market more effectively.
Research Your Competitor
It's impossible to effectively market your funeral home unless you have researched your competitors. You need to know what services they offer and what prices they charge in order to make YOUR funeral home's/cemeteries' offering the most attractive to potential families.
Design your services around families (Know what makes you different)
As you launch your marketing efforts, you need to make sure your services are tailored to your families – from the listing in the GPL to the way it is promoted in advertising and on the web.
Ensure your operation is smooth and efficient
The process of running your business is almost as important as the services themselves – make sure your staff greets families with a smile and a cup of coffee. Surprise and delight your families by going above and beyond the call of duty for them. Word of mouth is a powerful selling tool and this is exactly the way to generate it.
Create targeted advertising & marketing communications
Placing a few ads or running a few commercials just isn't enough to get noticed any more. Consumers are bombarded with hundreds of marketing messages every day of their lives and take less and less notice. You need to do something special to stand out, so make sure your messages are clear and appeal to exactly the families you are trying to reach.
Invest in your people
Your staff is your most precious asset – look after them and give them the training they need to do their jobs well. From your maintenance team, to your arrangement counselors, make sure they are motivated, have the tools they need and understand their role in the organization. If everyone works together, your business will look after itself.
Make sure your business is immaculate
Good presentation is a huge influencing tool; it generates trust, motivates your staff and makes families comfortable with their decision.
Understand that marketing is not advertising.
Don't make the mistake of thinking that advertising and websites are the only two ways to attract more business. You can market your funeral home in literally hundreds of ways, so it pays to know what they are and then eliminate the ones that won't work, or that you can't afford, up-front.
Respond to complaints well
Every complaint is an opportunity to turn around an unhappy family – respond quickly and positively. Remember the reputation of your funeral home is easily damaged, and the last thing you want is for people to be actively spreading bad comments about your business. A complaint that is dealt with well can often result in a loyal customer; they will have refreshed trust in your business and the confidence to use you again when the need arises.
Write a marketing plan
If you really want to elevate your marketing program, develop your strategy in the form of a written marketing plan, as this will ensure all members of your organization understand the company direction. The plan is a comprehensive document that covers all essential aspects of presenting your funeral home to the community, including the points listed above.
At the end of the day, the time spent developing your marketing program, is time well spent because it defines how you connect with your families. And that's an investment worth making.
Joe Weigel is the owner of Weigel Strategic Marketing, a communications firm focused on the funeral profession that delivers expertise and results across three interrelated marketing disciplines: strategy, branding and communications. For more information, you can visit his website at weigelstrategicmarketing.webs.com.
TIP FOURTEEN
Kicking off our special series of Tuesday Tips, Lacy Robinson, Director of Member Development for the NFDA ("National Funeral Directors Association") shares her favorite questions to ask during a prearrangement conference.
A pre-arrangement conference with a potential customer is a unique opportunity to have a meaningful conversation about legacy and the value of a funeral. Your role as a licensed funeral director and/or pre-arrangement counselor gives you the ability to guide the conversation and deepen the discussion, offering more value to your customer. A pre-arrangement conference is a time to ask questions that uncover an individual's experience with funeral planning, discover important information about the person's life, and explore how they might want to be remembered. All with only minimal time constraints and at a less emotional level than in an at-need arrangement.
 Lacy's Favorite Questions to Ask During a Pre-Arrangement Conference
In reflecting on your life, what do you want your legacy to be after death?
You mentioned your relationship with your grandchildren and great grandchildren, can you think of any important life lessons you want to pass down to them?
When you envision your end of life tribute, what do you see, smell, hear and/or taste?
If I were to ask your friends what they will remember most about you, what do you think they would say?
Have you considered documenting special memories and stories for your family?
Have you observed anything at a funeral that made you say, "I definitely don't want that at mine!"?
How do you want your story to be told?
TIP THIRTEEN
From time to time, we are asked the question, "Which is better, trust or insurance?"
As a provider of preneed trust products our general belief is that trust offers many advantages over other preneed products. For example, no insurance license is needed to sell trust products, trust are available for all ages, and trusts offer more flexibility for families. However, we also believe that a comprehensive preneed program may include multiple preneed products.
After spending time talking with and understanding our customers, we have concluded that you need to begin not with what product you are selling but with setting parameters around and designing your preneed program. To do this successfully, you need to keep your customers' needs in mind. Start by understanding your market, the different client segments, and how your preneed program can be designed to best meet each family's needs.
One method that has proven effective has been to adopt the approach of evaluating the client before the prearrangement conference to determine which product could provide him/her with the best solution. Over time, we have compiled a list of questions you may want to ask your families during your initial conversation with them about prearranging.
To learn more about developing a comprehensive preneed program, or to get a list of the questions we have developed over time, please contact us at 800-763-0234, or join us in April at the ICCFA Convention and Expo where you can learn more from our experts Ashlee Theising and Beth Kmiec, as they present "Insurance, Trust, or a Little of Both?"
TIP TWELVE
Tips for Year-End – Tax Preparation
Our Tuesday Tips for year-end planning continues this week with a few tax preparation tips, as it pertains to Trust Taxes, specifically Qualified Funeral Trusts. We also have included a few noteworthy 2018 tax updates.
Investment Portfolio Rebalancing – Review Tax Lots to maximize Long-Term Capital Gains vs. Short-Term.

Long-Term Capital Gains have favorable tax treatment unlike Short-Term Capital Gains.

If you can manage to hold your assets for longer than a year, you can benefit from a reduced tax rate on your profits. For 2018, the long-term capital gains tax rates are 0, 15, and 20 percent for most trusts. If your ordinary tax rate is already less than 15 percent, you could qualify for the zero percent long-term capital gains rate. For high-income trusts, the capital gains rate could save as much as 17.0 percent off the ordinary income rate.
Qualified Dividend Income – Determine what dividends are Qualified vs. Non-Qualified.

Qualified dividends, as defined by the United States Internal Revenue Code, are ordinary dividends that meet specific criteria to be taxed at the lower long-term capital gains tax rate rather than at higher tax rate for a trust's ordinary income. The rates on qualified dividends range from 0% to 20%.

To qualify for the qualified dividend rate, the trust must own the stock for a long enough time, generally 60 days for common stock and 90 days for preferred stock.
To qualify for the qualified dividend rate, the dividend must also be paid by a corporation in the U.S. or with certain ties to the U.S.
On Dec. 22, 2017, President Donald Trump signed into law P.L. 115-97, known as the Tax Cuts and Jobs Act. Its many new provisions include noteworthy changes to the income taxation of trusts, most of which are effective for tax years 2018 through 2025.

The law provides, for tax years 2018 through 2025, a new table under Sec. 1(j)(2)(E) of ordinary income tax rates and thresholds for trusts and estates (subject to adjustment for inflation for years after 2018) as shown in the chart below.
Ordinary Income Tax Rates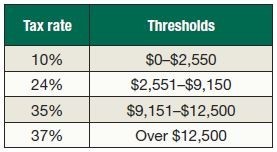 The law retains the preferential rates for qualified dividend and long-term capital gain income under Sec. 1(j)(5) but adjusts the thresholds as illustrated in the chart below.
Capital gains and qualified dividend rates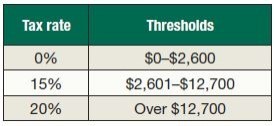 Source: www.irs.gov
TIP ELEVEN
Tips for Year-End Report Preparation
56 Days until Christmas and 2 months until the end of 2018 and the beginning of 2019.  As we prepare to close another year, now is a good time to start cleaning up your trust business in preparation for the year-end reports.
The following are 3 easy tips to begin your year-end cleanup:
1 – Review your records to ensure that you have submitted all claims for the services you have provided in 2018.
2 – Submit any necessary address updates or name changes that you have received from families during 2018, or identify tax elections you would like to change.
3 – Are your trusts spread across many providers making annual report season a major endeavor?  Learn how to gain efficiencies by consolidating your trust accounts with one provider.
For any changes, updates, claims, or if you would like to speak with someone about how ClearPoint Federal Bank & Trust can help consolidate your trust business, please call us at 800-763-0234 or email our team at customer.service@clearpointfederal.com.
TIP TEN
Tips for Distribution Processing
 
The ClearPoint team is committed to distributing funds to you within 48 hours*. To ensure optimized turnaround time, we identified a few tips to assist you in the process.
Claims should be submitted on either the original "Confirmation Receipt and Request for Distribution" form sent when the funds were initially accepted or the generic "Trust and Escrow Account Request for Distribution" form. Insurance claim forms will not be accepted.
If you are claiming funds on a trust that was not originally written with your firm, please use the generic "Trust and Escrow Account Request for Distribution" form and not the original funeral home's "Confirmation Receipt and Request for Distribution" to ensure funds are sent to the servicing funeral home, as appropriate.
Submit all claims via fax to 1-866-208-1236. Sending claims to an individual email or fax may slow down the claim process. Coming in 2019 – distribution requests can be submitted using the ClearPoint ClientPortal.
Please be sure to fill out the claim form completely, including the two required signatures at the bottom – "Funeral Director" (yours) and "Authorized Representative" (next of kin) – and provide all necessary supporting documents.
TIP NINE
Cybersecurity
Americans are spending more time online than ever before, using the internet for online shopping, banking, financial management, and socializing. This increased online activity exposes users to increased cyber risks. Online threats and cyber-attacks threaten not only the individual, but the future of our national and economic security. Because cybersecurity is important to our Nation, ClearPoint is joining with the Department of Homeland Security (DHS) to raise cybersecurity awareness during National Cybersecurity Awareness Month this October.
DHS's efforts this month will promote and emphasize several key messages, tied together by one overarching theme for the month: Cybersecurity is Our Shared Responsibility and We All Must Work Together to Improve Our Nation's Cybersecurity.
Cybersecurity is not just the responsibility of governments, companies, groups, or individuals. Everyone shares the responsibility for cybersecurity – from the average smartphone user to a corporate CEO. This October, and every day, follow these simple online safety tips from the DHS STOP. THINK. CONNECT.TM Campaign:
Enable stronger authentication. Always enable stronger authentication for an extra layer of security beyond the password that is available on most major email, social media, and financial accounts. Stronger authentication (e.g., multi-factor authentication that can use a one-time code texted to a mobile device) helps verify that a user has authorized access to an online account. For more information about authentication, visit the Lock Down Your Login Campaign at www.lockdownyourlogin.org.
Make your passwords long & strong. Use complex passwords with a combination of numbers, symbols, and letters. Use unique passwords for different accounts. Change your passwords regularly, especially if you believe they have been compromised.
Keep a clean machine. Update the security software, operating system, and web browser on all of your Internet-connected devices. Keeping your security software up to date will prevent attackers from taking advantage of known vulnerabilities.
When in doubt, throw it out. Links in email and online posts are often the way cyber criminals compromise your computer. If it looks suspicious (even if you know the source), delete it.
Share with care. Limit the amount of personal information you share online and use privacy settings to avoid sharing information widely.
Secure your Wi-Fi network. Your home's wireless router is the primary entrance for cybercriminals to access all of your connected devices. Secure your Wi-Fi network, and your digital devices, by changing the factory-set default password and username.
Learn more at https://www.dhs.gov/ncsam
TIP EIGHT
Customer Experience
When your customers think of your business, what will they remember? All of the small details are what keep your customers coming back to your company and are what defines your company's customer experience.
Customer service and customer experience are two different things. Customer service is the action of supporting a customer and is typically reactive. Customer experience is about the customer's journey with your business.
Customer experience, as defined by the Harvard Business Review is "the sum of all interactions a customer has with a company. This can include everything from a customer's initial awareness or discovery of a company, product or service, through the purchase and use of that company's products or services. Together, these all add up to the critical moments – what we call touchpoints – that create an organization's overall customer experience."
The payoff for delivering a positive and meaningful customer experience is customer retention, customer loyalty, and the emotional connection customers have with your brand. An emotional connection helps customers justify paying more for a product or service and motivates them to refer your business to a family or friend willingly.
At ClearPoint the customer experience is at the heart of our business strategy. As trends in business become more automated, ClearPoint is committed to providing personal service and remembering the basics that connect us as humans: a friendly smile, a handwritten note, and being respectful and considerate. We also recognize that developing our customer experience strategy is an ongoing process. Therefore, we listen to our customers as their needs change and their business grows.
Check out the following article for additional customer experience insight. The article offers ways to improve your customer experience strategy.
https://www.helpscout.net/blog/customer-experience-strategy/
TIP SEVEN
September is National Preparedness Month
Do you have an emergency plan documented? Does your staff know what to do in the event of an emergency? Historically, the emergency guide covered what to do in the event of a fire or tornado – in some states flooding and hurricane evacuation plans were an essential part of the emergency guide.
"When you consider that the number of declared national disasters nearly doubled in 1990's compared to the previous decade, preparedness becomes an even more critical issue. Though each situation is unique, any organization can be better prepared if it plans carefully, puts emergency procedures in place, and practices for all kinds of emergencies." (www.fema.gov)
Due to the increase in violence in the United States, today the emergency guide should include information regarding active shooters, intruders, chemical, explosive, nuclear, or radiological attacks. Public gatherings are vulnerable to those wishing to inflict harm. Therefore, funeral homes and cemeteries are targets for terrorists, making it imperative to be prepared.
We encourage you to review your current emergency guide to ensure it is up-to-date. A good plan and trained team members could save your business, and could save lives.
For help with updating your emergency plan, check out the following resources:
Ready.Gov https://www.ready.gov/business/implementation/emergency
FEMA – Homeland Security https://www.fema.gov/media-library-data/1389022685845-7cdf7d7dad7638a19477d01fdbfa820f/Business_booklet_12pg_2014.pdf
TIP SIX
Optimistic Attitude
Business executives and psychologist agree that having an optimistic attitude leads to success.
Writing down your goals each day will help you refocus your energy on what you can do to succeed as opposed to dwelling on the past.
Surround yourself with positive people
Practice resilience in your daily living
Learn from your mistakes and move on
Reading the following Optimist Creed every morning is another way to refocus.
Promise Yourself
To be so strong that nothing can disturb your peace of mind.
To talk health, happiness, and prosperity to every person you meet.
To make all your friends feel that there is something worthwhile in them.
To look at the sunny side of everything and make your optimism come true.
To think only of the best, to work only for the best, and to expect only the best.
To be just as enthusiastic about the success of others as you are about your own.
To forget the mistakes of the past and press on to the greater achievements of the future.
To wear a cheerful expression at all times and give a smile to every living creature you meet.
To give so much time to improving yourself that you have no time to criticize others.
To be too larger for worry, too noble for anger, too strong for fear, and too happy to permit the presence of trouble.
To think well of yourself and to proclaim this fact to the world, not in loud word, but in great deeds.
To live in the faith that the whole world is on your side, so long as you are true to the best that is in you.
-Christian D Larson, 1912
September 11, 2018 – Moment of Silence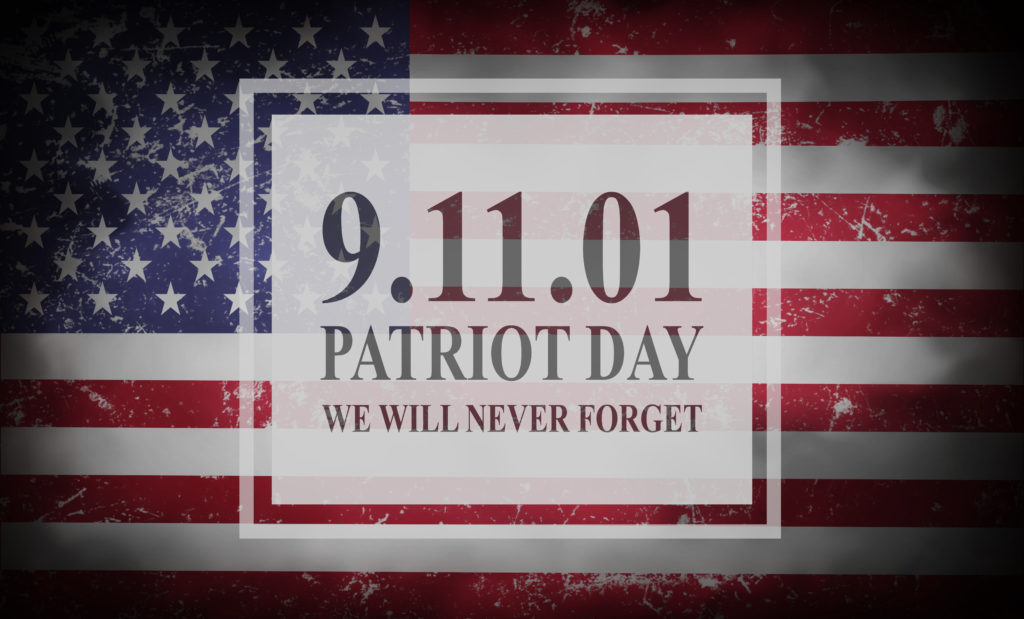 TIP FIVE
Investment Management
Just like a healthy living plan, your trust investment plan should be customized to meet your firm's goals, and you should consult with trusted experts, like ClearPoint, to develop and review your strategy. One size does not fit all.
We can help you with developing a customized investment strategy utilizing our team of experts who use a variety of support tools.
The following are considerations when developing an investment strategy:
Trust time horizon
Firm risk tolerance
Trust cash flow needs
Cost Effectiveness
State Restrictions
ClearPoint makes available trust investment management services utilizing a diversified portfolio of mutual funds to meet your specific needs. In addition, our plans include an exclusive asset liability matching system (ALM) based upon the age of your contract beneficiaries and current mortality tables to synchronize your investment time horizon with the expected mortality of the underlying beneficiaries. Our investment management services also include periodic account reviews to ensure your investment goals are being met and your investments are adequately positioned for the changing market.
TIP FOUR
Healthy Living – Maintaning balance in your life is important to your health and wellness. Your personal health can affect many areas of your life, including your daily work.
Are you feeling overwhelmed by all of the information available today for starting and maintaining a healthy lifestyle? What foods are good for you, what diet is right for you, which exercise will deliver you the best results, and just where do you start?
Maintaining a healthy lifestyle can be time consuming and confusing. Sorting through the suggestions for what is best for you, and the different tools available to keep track of your performance can be overwhelming, especially for busy professionals like you.
We encourage you to work with a health care expert to design a Healthy Living Plan that best meets your unique needs. Your personal health and wellness is a critical component in achieving your business goals today, and in the future.
One resource to help you get started on living a healthy lifestyle is the following article from WebMD:
http://www.webmd.com/balance/features/healthy-living-8-steps-to-take-today#1
Although we at ClearPoint are not the experts you need for designing a healthy living plan, we do understand the importance of balance. Sometimes, turning to experts in areas where you are otherwise unfamiliar opens up room for you to find more balance.
When it comes to your preneed trust, we can assist in offering that balance. Check out next week's Tuesday Tip to learn more about how we can help you develop a trust investment strategy to meet your firm's goals.
TIP THREE
Marketing Ideas for Today – In today's world, you must utilize modern marketing strategies in your day-to-day operations, including having a robust website that is optimized for search engines and mobile devices. But, marketing on a budget, with limited staff, and sifting through all of the options available today can be overwhelming. There are a number of resources available today that offer tools to help you simplify and maximize your marketing efforts. We suggest starting by thinking beyond a static website and trying one of these simple modern marketing tools: being active on social media, creating an enewsletter or starting a blog. The following are some popular sites that offer marketing tools designed to help you tell your story while saving time and money:
Fiverr.com – Freelance Services
Animoto.com – Marketing Video Creation
Grow.com – Sales and Marketing Analytics
Hubspot.com – Inbound Marketing
Hootsuite.com – Social Media Scheduling and Social Media Monitoring
Google Analytics – Web Traffic Analytics
MailChimp.com – Email Marketing
Quicktapsurvey.com – Surveys and Lead Capture
TIP TWO
Community Engagement – Being involved and engaged in your community is an important and valuable way to reach potential new customers. Most people will only interact with your business when they are under the stress of having lost a loved one. But, by being visible throughout the community, you can connect with customers before they need your services. Community involvement can be as simple as participating in community festivals or events, or supporting local schools. You can take a deeper dive in community involvement by starting a charity or foundation, supporting other local foundations, or opening your business for events other than funerals. What's important is to let people know your values and your personality, so that when their time of need comes, they will think of you first. Check out the new ClearPoint consumer brochure. Consider incorporating the brochure into your strategy for community engagement. The brochure is a support tool created to assist you with educating individuals about the benefits of planning ahead. The brochure was designed with a place to hold your business card as a way to make it more personalized. ClearPoint Consumer BrochureDigital
TIP ONE
Think Strategically Everyday – It's important to think each day about what is important to the long-term success of your business. Many routine tasks seem important, but it's critical to step back and ask yourself if where you spend your time is important to your business. Example: Many funeral homes and cemeteries have found that by using ClearPoint's recordkeeping services, it frees them up to focus more on what is really important to their success.
This tip was inspired by Steven Covey's "first things first" principal of focusing daily on what is important rather than what is urgent, but unimportant. For more information and inspiration, check out the book – First Things First: Stepehn R. Covey